Russell Flint
Limited edition prints
---

Cecilia Green died on Nov 2nd 2003 aged 72.
(Extract from The Daily Telegraph.)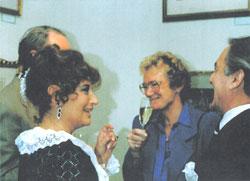 Cecilia Green was the favourite model of Sir William Russell Flint, featured in many of his paintings from Spanish gypsy to cloistered nun.
Her nude poses - more aesthetic than erotic - were, and remain, famous. At their first meeting in the early 1950s Flint, then aged 72, recognised that her singular beauty
fine cheekbones, slanting eyes and provocative mouth - was the ideal he had had in his mind's eye all his life. (Betjeman was later to sing,
"I could not speak for amazement at your beauty".) Moreover, as a trained ballet dancer, she had the suppleness and skill to hold long and difficult poses; Flint was a demanding master.

Their association lasted for some 15 years, but she was much more than his model and his inspiration.
Flint's wife was confined to a nursing home with arthritis, and Cecilia took over many additional duties, such as dealing with agents, acting as his hostess, and even manicuring his fingernails.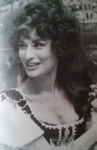 Their relationship was sometimes awkward; Flint could be petty and possessive, and Cecilia was always known for speaking her mind -
but it was close, companionable and affectionate; Flint's autumn and Cecilia's spring complemented one another wonderfully.

Despite rumours at the time, their relationship was chaste. Flint's diaries show that he was passionate about Cecilia, but he was always the essence of propriety -
though once, in a wild moment, he proposed marriage. Cecilia reciprocated his love, but saw him as a kindly uncle rather than a swain.

Perhaps the most revealing episode came at their parting, when Cecilia, bored with the discomforts of modelling, left to take up a new career in 1966. Flint's diaries record his despair.
Cecilia tried to keep in occasional touch but, on her last telephone call shortly after she left, he refused to speak to her.
Though Cecilia never forgot the hurt his bitterness caused her - and regretted that she had not handled the situation more gently - she always spoke of him with affection and respect.
Flint died in 1969.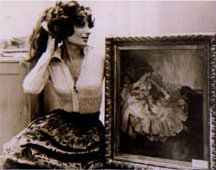 Cecilia Green, the only child of garment workers of Russian-Jewish extraction, was born at Hackney, in the East End of London, on August 29 1931.
In childhood she suffered from malnutrition, which caused rickets in the legs and thighs.
That her legs in adulthood were extremely shapely, as Flint showed, must be attributed rather to her later ballet training than to early treatment, for no one could persuade her to keep her splints on.

She was herself a fine artist, and produced lively and witty watercolours which she would describe as her "caprices".
In her Rape of the Sabines, the aggressors are women; and she had the playful notion of representing Flint painting a group of naked washerwomen in Piccadilly Circus.
When her last painting, Brolly Ballet, was being prepared as a limited print, she had to remind the publishers that if they took too long she would not be around to sign the copies personally.

Originally Cecilia Green trained for the ballet, and danced successfully for the London Festival Ballet; but after a recurrence of childhood tuberculosis she was unable to return to her career.
At 21, having decided to become an artist's model, she turned up on Flint's doorstep, initiating their long association.

In 1958 she married John Simmons, the fine art consultant and connoisseur, but continued to model for Flint until 1966,
when she and John were "adopted" by Baron Leo Bensilum, an ebullient and dominating oil company executive.
Cecilia found his extrovert personality the very opposite of the shy, retiring Flint, and was to work for him as his personal assistant until he retired.

In her later years, Cecilia Green retained her beauty.
She deepened her enjoyment in the visual arts, the ballet and the opera, while her loving nature was expressed through the care she showed for her husband and through her warm friendships.
Although discriminating in choosing her friends, when she met a fellow spirit there was no doubt about her affections.

Towards the end she would sometimes speak of her envy for those who had religious faith.
But her picture of a vengeful Old Testament God had been imprinted too early to be eradicated.
Her husband survives her.