Russell Flint
Limited edition prints
---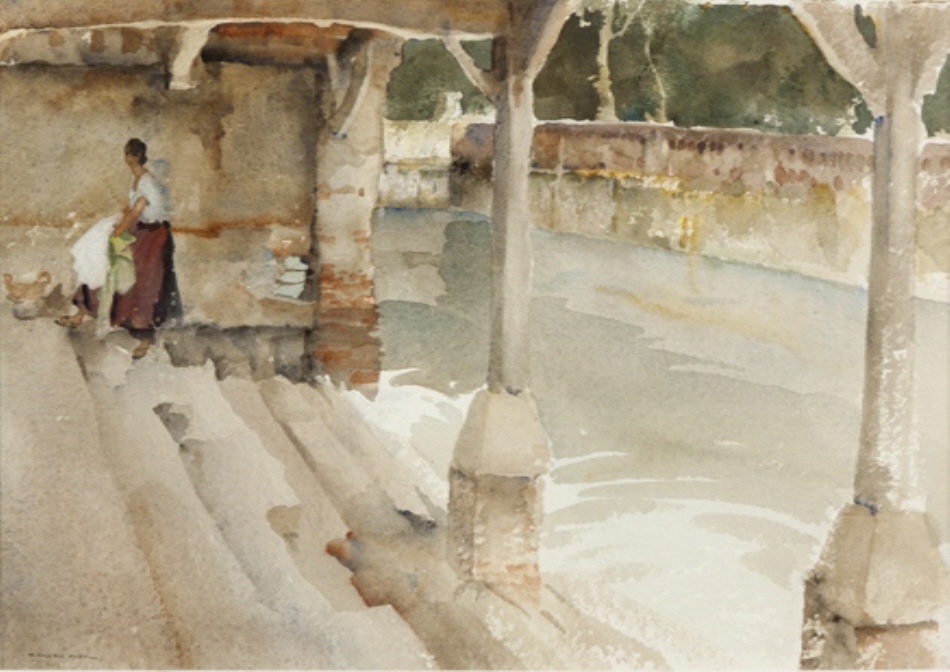 'LE LAVOIR AT COLOGNE, France'
signed 'W Russell Flint';
Signed and titled also on the back.
Image size:- 10.25 x 14.5in (26 x 37cm.)
Bears a "Royal Society of Painters in watercolour" label
Location:- Cologne, France;
Date:- July 1954 in pencil verso

Cologne is in the department of Gers, the region called The Midi-Pyrenees in the south west of France.
Not to be confused with Cologne (Koln) in Germany.

This painting is from a family collection in South Africa.
The painting exudes a certain freshness and radiance as the light strikes the stone steps and the water,
This effect has been achieved with great professional skill.
The painting also bears an important label of the Royal Society of Watercolour Painters.

The old wash area still exists today; many of the old buildings in France have been renovated.
The old castle foundations are the base of the Lavoir, north of the 14th century Hall along the Chemin de Ronde.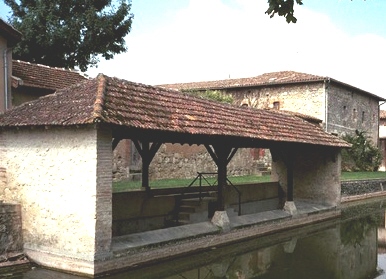 For over 30 years Sir William Russell Flint's signed prints and paintings by have been our speciality
Five hundred limited edition personally signed prints, and unsigned editions published after his death; and a fine collection original watercolours, are on sale.
St. Jean du Cole and Brantome in the Dordogne region of France is where Sir William Russell Flint spent much time. La Chabroulie, www.perigeux.com.
Limited editions, in particular the limited edition signed prints, published before the artist's death in 1969, were in enormous demand at the date of publication,
the whole edition would often take no more than a few hours to completely sell out.
Unlike books, other editions of these prints have never been produced, and apart from the original painting these prints are the only original hand signed, editions,
the early ones being almost one hundred years old.

A true professional and credit to his profession of watercolours, the work of Sir William RussellFlint has the recognition amongst the greatest and most admired art in history.
Please see a collection of work by some of the world's finestartists:- wildlife paintings of www.davidshepherd.com.
David's signed limited edition prints and original paintings exhibit a world class talent of unequalled wonder.
Paintings by an incredibly talented artist, who captured the working lives of everdayday people in the 1960s is now of the geatest importance to both art collectors and and financial investors.
The painting s and signed limited edition prints of Laurence Stephen Lowry have seen a dramatic price increase and his work
according to recent studies, is now amongst the most sought
after of British artists, and of great investment value.