Le Quatorze Juillet
Limited edition print
---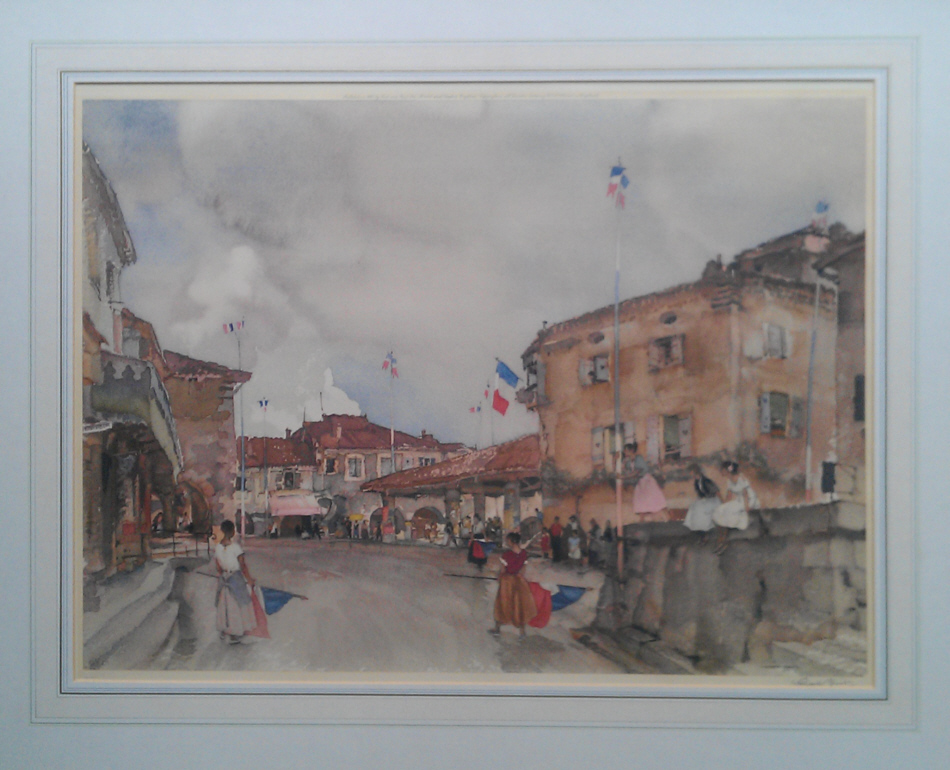 'Le Quatorze Juillet'
Date of Publication July, 1956.
Signed,Limited Edition print of 700.
Image size 17.5" X 24"
Most of Russell Flint's visits to France avoided the high summer, but in each of the two years preceding the publication of this subject,
he was in fact there for the annual celebration of the Storming of the Bastille in 1789.
In 1959 he was in Antibes with his son Tink who, he records in his diary, "got on with 'a half' of the town fete and I did 'a half' of the Jetty Ramparts".
His log confirms the jetty ramparts picture and his diary complains of the rainy weather, whilst the Royal Academy Exhibition catalogue describes the
"spagled wizardry" of the firework display that evening in Cannes.
In 1954 he found himself on the 14th July at Mauvezin where on "a lovely morning" from his hotel window he completed a large watercolour.
Whether or not this was it, is unclear, but it was his invariable habit to paint the background on site, and add the figures in the comfort of his studio,
direct from his models, and "Quatorze Juillet" has the feel of having been worked on at the studio again and again.
---