Reclining Nude II
Limited edition print
---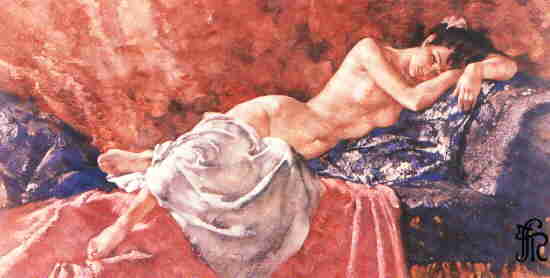 "Reclining Nude 2"
Signed, Limited edition print of 850
Image size 12.5" x 22.75"
Published in 1967
Copyright in all countries
---
Russell Flint

For over 30 years Sir William Russell Flint's signed prints and paintings by have been our speciality
Five hundred limited edition personally signed prints, and unsigned editions published after his death; and a fine collection original watercolours, are on sale.
St. Jean du Cole and Brantome in the Dordogne region of France is where Sir William Russell Flint spent much time. La Chabroulie, www.perigeux.com.
Limited editions, in particular the limited edition signed prints, published before the artist's death in 1969, were in enormous demand at the date of publication,
the whole edition would often take no more than a few hours to completely sell out.
Unlike books, other editions of these prints have never been produced, and apart from the original painting these prints are the only original hand signed, editions, the early ones being almost one hundred years old.

A true professional and credit to his profession of watercolours, the work of Sir William RussellFlint has the recognition amongst the greatest and most admired art in history.
Please see a collection of work by some of the world's finestartists:- wildlife paintings of www.davidshepherd.com.
David's signed limited edition prints and original paintings exhibit a world class talent of unequalled wonder. Paintings by an incredibly talented artist, who captured the working lives of everdayday people in the 1960s
is now of the geatest importance to both art collectors and and financial investors. The painting s and signed limited edition prints of Laurence Stephen Lowry have seen a dramatic price increase and his work
according to recent studies, is now amongst the most sought after of British artists, and of great investment value.